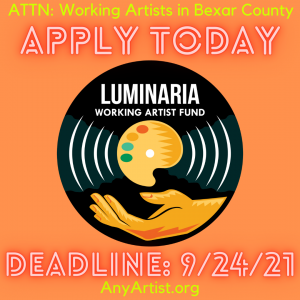 The Luminaria Working Artist Fund (WAF) is a professional development micro-grant for individual artists living and working in Bexar County. Up to $550 may be requested once per year for activities that support artistic growth. The WAF Fall 2021 application closes at 11:59 PM Friday, September 24, 2021. Professional development projects must be completed by February 28, 2022.
Visit anyartist.org
DONATE TO THE WORKING ARTIST FUND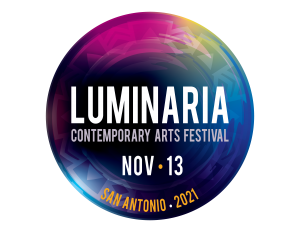 Luminaria Contemporary Arts Festival
Saturday, November 13, 2021, 6:00pm-Midnight
Hemisfair, San Antonio, TX
Be a part of this nighttime celebration of the arts created with the ingenuity of our vibrant artistic community. The LUMINARIA Contemporary Arts Festival features more than 50 artists from across Texas, including music, fine arts, film, digital art, dance, theatre, poetry, lasers, lights, and large-scale art installations.
This festival is free and open to the public. It will be held at Hemisfair in downtown San Antonio with plenty of outdoor space to socially distance and enjoy the art. To become a festival sponsor, email us at info@luminariasa.org
DONATE TO THE LUMINARIA CONTEMPORARY ARTS FESTIVAL
Luminaria

is

a

dynamic

nonprofit

arts

organization

dedicated

to

producing

and

promoting

the

arts

to

the

city

of

San

Antonio

by

managing

the

annual

iconic

Contemporary

Arts

Festival,

the

Luminaria

Artist

Foundation

grants

program,

and

culturally

driven

creative

placemaking.