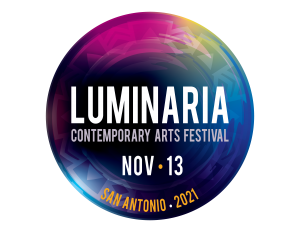 Luminaria Contemporary Arts Festival
Saturday, November 13, 2021, 6:00pm-Midnight
Hemisfair, San Antonio, TX
Be a part of this nighttime celebration of the arts created with the ingenuity of our vibrant artistic community. The LUMINARIA Contemporary Arts Festival features more than 50 artists from across Texas, including music, fine arts, film, digital art, dance, theatre, poetry, lasers, lights, and large-scale art installations.
This festival is free and open to the public. It will be held at Hemisfair in downtown San Antonio with plenty of outdoor space to socially distance and enjoy the art.
DONATE TO THE LUMINARIA CONTEMPORARY ARTS FESTIVAL
---
Luminaria is hiring!
Position Available: Part-Time Administrative Assistant
The ideal candidate possesses strong operations management experience preferably in an arts non-profit organization; have excellent people skills; display personal qualities of integrity, credibility, and commitment to the arts; is flexible and able to multi-task; can work independently within a fast-moving environment; experience in Quickbooks, Microsoft Office/Adobe, and social media preferred. Open until filled. Click here to fill out the application.
Luminaria

is

a

dynamic

nonprofit

arts

organization

dedicated

to

producing

and

promoting

the

arts

to

the

city

of

San

Antonio

by

managing

the

annual

iconic

Contemporary

Arts

Festival,

the

Luminaria

Artist

Foundation

grants

program,

and

culturally

driven

creative

placemaking.