The call for the 2023 Luminaria Contemporary Arts Festival is now open!
Call for Artists Opens: Monday, March 6, 2023 1:00am CST
Closes: Sunday, March 26, 2023 11:59pm CST
Luminaria, the San Antonio-based arts nonprofit, announces its annual Call for Artists for its iconic Luminaria Contemporary Arts Festival.  The festival is moving from November to October and will be held once again at Hemisfair and the Henry B. Gonzalez Convention Center. This year, Luminaria is celebrating its 15th anniversary on Saturday, October 21, 2023. The iconic festival highlights the arts and artists, the city's creative economy, as well as the rich artistic culture that makes San Antonio unique.
Applications are now being accepted via AnyArtist.org. Established and emerging artists in various artistic genres are encouraged to apply. The festival seeks to spotlight San Antonio, South Texas, and Texas artists, however, applicants from anywhere are welcome to apply. The outdoor festival highlights film, music, theatre, spoken word, dance, fine art, sculpture, large structural installations, in-gallery installations, digital art, performance art, and multi-media throughout the downtown footprint. The application is open from March 6-26, 2023.
Applications will be evaluated by a curatorial committee made up of local working artists and art experts. Featured Artists will be notified in April followed by site-visits, consultations, mentorship, a photo shoot, spotlight videos, media interviews, and networking opportunities. A public announcement of the festival line-up will be held in September. 
Visit AnyArtist.org
Luminaria Working Artist Fund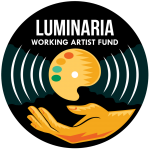 The Luminaria Working Artist Fund (WAF) is a professional development micro-grant for individual artists living and working in Bexar County. Up to $550 may be requested once per year for activities that support artistic growth.
The Working Artist Fund addresses the impact of COVID-19, the recent winter storm, and other on-going economic hardships on individual artists living and working in Bexar County. The fund will offer support toward a sustainable livelihood for area artists through generous year-round donations from individuals, foundations, government entities, corporations and partners that wish to support a vibrant arts community. 
Applications open in the Spring and Fall. Go to anyartist.org to apply.
The Working Artist Fund is supported by the City of San Antonio's Department of Arts and Culture, The Brown Foundation, Texas Public Radio's !Viva Telethon¡, Nelco Media, Guillermo Nicolas, Angelika Jansen, Phil & Linda Hardberger, Garrett T. Capps, and numerous individual art supporters. 
Click here to make a donation.
2021 Working Artist Fund Grantees
Christopher Arispe

Rick Canfield

Veronica Castillo

Violeta

De Leon Davila

Anna DeLuna

Joël Dilley

Kaldric Dow

Juan Escobedo

Adria Garza

Carly Garza

Sarah Gonzales Busse

Suzy Gonzalez

Xelena

Gonzalez

Brittany Ham

Mari Hernandez

Brittany Lopez

Gabi Magaly

Jesus Toro Martinez
Raisa Melendez

Michael Menchaca

Josue Mora

David Ortiz

Jorge Palacios
Christopher Quiroz

Martin Rodriguez

Joseph

Rogers

Michael Ryan

Alvaro

Salas

James E. Sanders Jr

Ray Santisteban

Alan Serna

Manuel Solis

Jackie

Velez

Shane

Vickers

Ursula

Zavala
Working Artist Fund Judges
DeAnna Brown
Keli Rosa Cabunoc Romero
Violeta De Leon Davila
Suzy Gonzalez
Jeremy Kingg
Amalia Ortiz
Andrea Vocab Sandreson
Jesus Toro Martinez
Jonathan Treviño
The Luminaria Artist Foundation Grants Program awarded individual San Antonio artists with grants for new works in 2020 and 2021. It was supported by the City of San Antonio's Department of Arts & Culture, Kay and Scott Armstrong in honor of Kathy Armstrong, Rick Liberto, The Lifshutz Foundation, Patricia Pratchett, Guillermo Nicolas in honor of his mother Irma Cortez Nicolas, and numerous individual donors.
In 2021, the City of San Antonio renewed their commitment to individual artists by offering grants to support a diverse portfolio of artists working across the City of San Antonio in the production of new, original, high-quality art. Visit getcreativesanantonio.com to apply.
Luminaria is dedicated to the innovative interpretation of our city's culture, history, and environment through creative placemaking and site-specific arts integration. We coordinate with anchor arts institutions, cultural and heritage organizations, and other community partners to give San Antonio residents and visitors access to a vibrant arts culture.
Join our mailing list and follow us on social media for updates as we plan for 2021!
In 2020, Luminaria partnered with Centro San Antonio, the National Park Service, and Mission Heritage Partners on five mural PlaceMaking projects.
Mission San José Tricentennial Mural
Artist Sandra Gonzalez created the mural for the Roosevelt Avenue facing wall of the San Antonio Missions National Historical Park Visitor's Center. The park's mural commemorates the 300-year history of Mission San José.
Centro San Antonio Art Everywhere
The Centro San Antonio murals are part of Centro's Art Everywhere initiative and will adorn the facades of four downtown buildings when they are all completed. San Antonio artists Suzy Gonzalez, Kat Cadena, Rudy Herrera, and Joe De La Cruz will each add their creative voices to our city's urban core.
Creative ventures such as these are made possible in part by our partners at Centro San Antonio, the National Park Service, and Mission Heritage Partners.